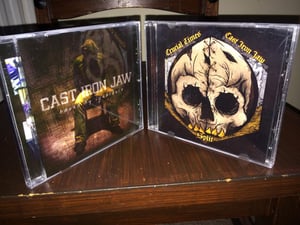 £

5.00
Bound By Ignorance - 10 Track Studio Album
Featuring 10 tracks of hard hitting, aggressive UK Hardcore, with guest vocals from No Second Chance and Six Ft. Ditch! This one goes out to our Hardcore Family Worldwide!
CD booklet includes lyrics, thanks and photos.
Brought to you by BadAss!! Records, Sample tracks can be found @
http://castironjaw.bandcamp.com - free download with merch purchased
http://www.reverbnation.com/artist/song_details/12409308
1. Tides (3:18)
2. Cast Iron Jaw (2:36)
3. Awaken (4:55) (ft. Owen of NSC, Courtesy of Goodlife Recordings)
4. How I See The World (2:24)
5. Beast (1:53)
6. Man Made Misery (2:32) (ft. Peachey of Six Ft. Ditch/Rape Of the Vines)
7. Tourists (2:54)
8. Full Bodied (0:20)
9. Buried Alive (2:30)
10. All My Strength (3:44)
Released on BadAss!! Records, recorded, Mixed and Mastered by Stu McKay @ Studio 6, Swindon. Production by Stu McKay and Cast Iron Jaw.
Please allow 3 - 5 days for delivery UK & EU. Thanks!
SPLIT EP WITH CRUCIAL TIMES.
CAST IRON JAW
1. EDS
2. Hell is upon you
3. Legacy
4. Dead man Walking
CRUCIAL TIMES
5. State Of Fear
6. Eighty Six
7. Product
8. Saving Grace